How We Do It
The narrow cobblestone streets in New York's financial district assume a menacing look on a rainy midnight. The nine-to-five boys are long gone and the night watchmen have drifted off to sleep. Except for the sound of steam hissing from a manhole cover, the streets are silent. This is when David Schiff takes to the shadows and the back streets, connecting with his confidential sources in the dead-end alleys off Maiden Lane and in the deserted subway stations beneath John Street.
Insurance is a dangerous beat, but an insurance reporter who wants to make it in this town can't be afraid of plowing through a pile of convention statements after hours or eyeballing some incurred-but-not-reported claims up close. It's dirty work, but Schiff revels in it. It's his calling to crank out the iconoclastic musings, hard-hitting analyses, and fearless commentaries that have made Schiff's Insurance Observer so successful that it sometimes even turns a profit.
Our Audience
Schiff's is written for a select audience of tough guys, intellectuals, hepcats, existentialists, trumpet players, pastry chefs, and all others who have a keen interest in insurance.
History
David Schiff started Schiff's in 1989. It was originally called Emerson, Reid's Insurance Observer, after the wholesale insurance firm Schiff owned. Its goal was to promote Emerson, Reid's business. That worked, and Emerson, Reid prospered.
In 1991, Schiff said to hell with promoting Emerson, Reid's business and decided to write a great newsletter instead. (That turned out to be even better promotion for Emerson, Reid's business.)
Schiff sold Emerson, Reid at the end of 1996 but kept the publication and changed its name to Schiff's Insurance Observer. The famous bulldog logo was added at that time.
Publication Schedule
Schiff's has always had a somewhat erratic schedule. In 2000, after switching from print to emailed .pdf files, Schiff's gave up on any semblance of a schedule. Why publish just because it's the first and fifteenth of the month? Instead, we published when we had something to say, which turned out to be about twenty times a year.
The Present
Schiff's has been on hiatus since 2007. David Schiff hasn't decided if he wants to continue writing the publication.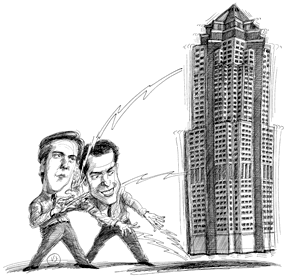 Jason Adkins and David Schiff
visit Principal Mutual's headquarters in 1998.